A few months ago I did a major overhaul in my closet. It was refreshing and freeing. I was able to donate a good many things and just rid myself of lots of unused "stuff" of all kinds. I did some organizing and rearranging in the process also, and I was left with space I didn't realize I had.
One thing I'd been wanting to add to the closet for some time was a spot for sitting. Of course, I don't mean for reading a book and sipping coffee; just a spot for putting on shoes, thinking about what to wear to work, or maybe just breathing for a minute and thinking a deep thought.
A chair, a bench--I wasn't really sure. When I came across this small stool thrifting with my mom one Saturday, I decided it was perfect. It's just what I had in mind. The closet is not huge; it is a walk-in, but anything larger than this wouldn't work.
It's in good condition and sturdy.
This flower print is on all four sides.
You can tell in this picture there must have been some type of trim with a circular form to it, or maybe there was a nail head finish. But I don't see any holes for nails.
I sanded off the flowers and the legs of the stool, and painted it last weekend. Now I'm trying to decide if I like any of the fabric scraps I have around the house, or if I want to look a little more.
This first piece is left over from a table skirt, but I think it's too creamy. That makes me sad, because this one is probably my favorite.
This one is the best match in color, but this navy print... It's just weird to me.
This is probably my next favorite. The back ground is more cream than white, but not as creamy as the one above.
I also ordered a sample of this cute fabric from
Fabric.com
.
This geometric fabric is fun and the whites match great. The green is even brighter in person.
And now, as you can probably guess, I have too many choices! Decisions, decisions...
I bought these at
Lowe's
thinking I would use nail head accents. I've never worked with them on a project, so that may or may not happen.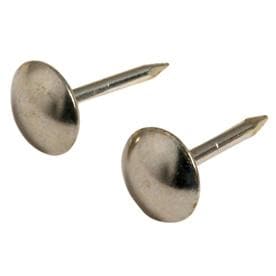 Okay. That's where I am in the process. I'll let you know how it turns out. :-) April and May are such busy months in high school who knows when I'll be done.
Feel free to leave your opinion in the comments. Do you like one better than the others? Have a great weekend!