I really like the look of big, bold greenery. It's eye-catching and statement-making.
Philedendron leaves are an easy way to get that bold greenery look.
Ballard Designs
I'd been thinking I wanted to add some large leaves to my décor, and I came across this photo from One King's Lane back in September. Then, dear blog reading friends,
I looked at the price tag
. Needless to say, I was inspired to shop my house and create my own version.
And that's just what I did.
Hobby Lobby sold me the two leaves. These may or may not have been 50% off when I bought them. September was a long time ago, and I can't remember. :)
I already had the glass vase (also from Hobby Lobby from years ago), and I already had the rocks. I was using them both for another arrangement that I was ready to be done with it, so it was the perfect vessel for my DIY project.
The finished look:
Not too bad!
If you'll remember I painted this room a few springs back, and I really hadn't done anything to this spot until I made this arrangement. I added the plates to finish it up the wall. Because blue and white makes every area better.
Here are a few more inspiration pictures using bold greenery in home decorating.
J K Kling
House Beautiful
via Pinterest
via Pinterest
via Pinterest @trellishomedesign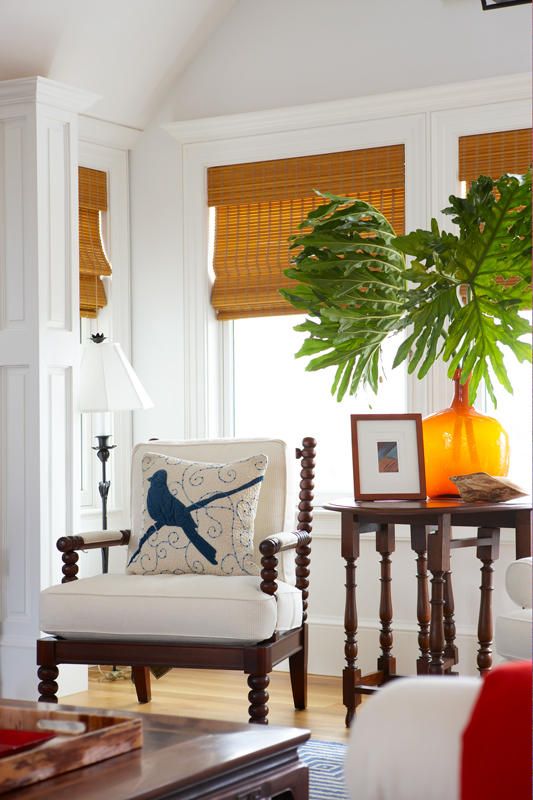 Austin Patterson Diston Architects
I love the mix of blue, white, and green in this room.
Caroline Gidiere
Enjoy your day,
Kathryn